#21- What did you expect?
The one where we realize we knew nothing at age 21. Except for the things we did know. (Original release date- 08/18/19)
Recipe - Let's not and say we did.
When you're 21, you don't 'recipe' things. Beer. Trashcan punch. Whatever. I didn't even cocktail until I was older than that. So in the spirit of our 21st episode, we decided to mix it up (or pre-mix it?) and try some of the different premixed or "RTD" cocktails on the market. I enjoyed the Gold Rush, the Kahlua martini was pretty sweet but I wasn't a fan of the Portion one. Gina did better than I did though because she liked all of hers. I will say the ones I reserved for "another night" though, ended up being pretty tasty. I had to take the pictures of Gina's cocktails from the On The Rocks website, so total credit to them. Plus their drinks were delicious so double credit even!
#22- Eyelash extensions are worth the investment. Really, they are.
The one where we decide which is more important— time or money? (Original release date- 08/25/19)
Recipe - See You Next Wednesday.
"See You Next Wednesday" is a thing in most of the films directed by John Landis, referring to a fictional film. It's a fun Easter egg to look for, like the Pizza Planet truck or A-113 in Pixar films. The name of this drink came to me when T and I were watching "The Blues Brothers" with Rexy one night. I wanted something refreshing and tasty but not too dusky, and this is what I came up with. Please to enjoy.
Ingredients-
2 oz Absolut Elyx

1.5 oz Domaine de Canton Ginger Liquor

2 oz Cointreau

Juice from 1/2 lemon

Club Soda
Put first 5 ingredients in cocktail shaker with some ice. Shake well. Pour into glass with ice. Top with club soda. Garnish with a long beautiful strip of citrus peel.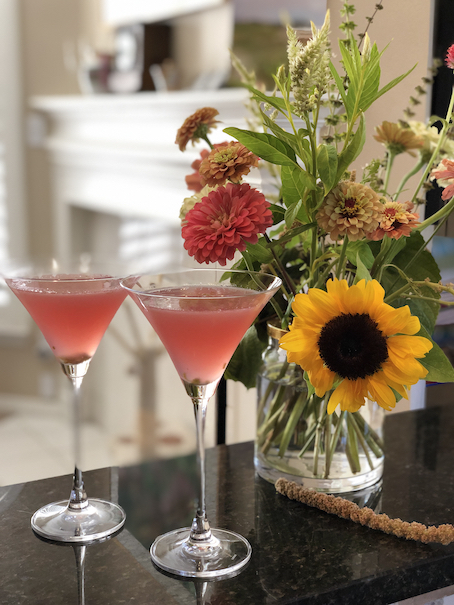 #23- Thank you for being a friend
The one where you learn Gina's elvish secret and we have a special guest star! (Original release date- 09/01/19)
Recipe - The classic Cosmopolitan Martini
Tonight we welcomed our new friend and special guest Alice Agnello, host of "The Kids Are Grown, Now What?" which is an incredible podcast for listeners who are struggling with finding an identity now that they're empty nesters. I all of us parents tend to verge into that "Oh hi, nice to meet you, I'm Milly's mom." territory, so once Milly isn't a factor, how do you define yourself? Even more terrifying, how do you make friends when you don't have the kids around as a buffer? This was a pretty cool discussion with a groovy chick. You'll be hearing from her again. In the meantime, enjoy your favorite drink from SATC, the ever delicious, ever popular, always safe to order, Cosmopolitan.
Ingredients-
2 oz Absolut Elyx Vodka

1 oz Cranberry Juice

2 oz Cointreau

3/4 oz fresh lime juice

Twist for serving
Measure the liquid ingredients into a cocktail shaker with some ice. Shake well until thoroughly chilled. Pour into a chilled martini glass. Garnish with a long beautiful strip of citrus peel.
#24- Strong & Sparkly
The one where Jill runs from open doors. (Original release date- 09/08/19)
Recipe - The French 75
Now that I know there exists a gin of such delicate balance, strong will and character, as well as beautiful flavor (translated doesn't taste gross) I am amenable to an occasional gin drink. As such, when Gina harped on me…erm…suggested (for months) that we try this, I was finally willing. Reluctantly, I admit she was right. It's pretty amazing. It's a strong drink in a sparkly dress.
Ingredients-
2 oz Gin (I used McQueen & the Velvet Fog)

2 oz Champagne

3/4 oz simple syrup

3/4 oz fresh lemon juice

Twist for serving
Combine gin, lemon juice, and simple syrup in a cocktail shaker. Fill shaker with ice, cover, and shake vigorously until outside of shaker is very cold, about 20 seconds. Pour into a chilled glass (some sites say use a highball, some say use a martini glass, some use a champagne glass so I say use what you like to drink from). Add the champagne. Garnish with a long beautiful strip of citrus peel.
Co-starring-
Milly- 13-year-old daughter of Jill
Nina- 20 year-old daughter of Gina
*T*- husband of Jill
Rexy- Friend of the podcast and semi-regular guest
Note: There were kid friendly cocktails available for our underage guests.
#25- Quarter-Century Free for all
The one where you get to finally meet EVERYONE— almost. (Original release date- 09/15/19)
Cherry Crush
Used previously in Episode 17, we revisited the Cherry Crush. I'm going to totally out Gina here, because in that episode, she was a little more gone than I was. So, in the interest in seeing if my concoction would taste the same and have the same effect as her own mixing of it, I decided to revisit the cocktail again. Also, because it's super easy to scale up. Gina said that yes, it really did taste different, and even scaled up, everyone really enjoyed it. Here are the ingredients for a single pour:
Ingredients-
Crush cherries into the bottom of a rocks glass. Add cocktail ice. Add all but cherries and club soda to shaker with ice. Shake vigorously. Strain into rocks glass with cocktail ice. Add club soda and stir.
For extra credit, soak the cherries in bourbon overnight first. Garnish with one of those bourbon soaked cherries, add a Luxardo cherry and enjoy!
#26- The answer is nukes. It's always nukes.
The one where we all learn who's on our zombie apocalypse team and how disaster can satisfy our deepest needs. (Original release date- 09/22/19)
The Shark Bite
When we decided to talk a little about disaster movies, the mother of all disaster movies, Jaws, immediately came to mind. This movie ruined economies. In real life. Total confession, I absolutely live for disaster movies. Even bad ones (not too bad though) can be bliss. Especially when they are of the "natural" disaster type, when the disaster is a natural disaster that is caused by man. A rogue electric storm causes a super charged tornado. Some sort of ozone hole causes ice to freeze people instantly. OMG I can't even. It's so fun. And if Lou Diamond Phillips or a Baldwin is in it, count me in. But Jaws was another animal all together (CWIDT!?) And so…to enjoy and celebrate that...I give you the Shark Bite.
Ingredients-
Combine simple syrup, spiced rum, white rum, Blue Curacao, and lime juice in a cocktail shaker. Add ice, cover shaker, and shake until chilled, 10 to 15 seconds. Fill a glass with remaining ice. Strain rum cocktail into glass. Add drops of grenadine onto top of cocktail because #blood.
#27- Thelma & Louise, The Supreme Court, or Entourage?
The one where we discuss who we would choose to be our Ride or Die companions -besides the obvious. (Original release date- 09/29/19)
The Tiger Tanaka
This drink literally had nothing at all to do with friendship, who we'd hang with, or anything. It would have made more sense to have during our James Bond episode. But martinis are soooo good. That said, I found the recipe when I was looking for something to go with my new bottle of Limoncello, because you can't go too far wrong with that. Turns out, it was actually pretty yummy.
Ingredients-
3 fresh cilantro leaves

1 slice peeled fresh ginger

2 oz citrus vodka

1/2 oz Limoncello

3/4 oz Pineapple Juice
Muddle cilantro and ginger in mixing glass. Add remaining ingredients and shake. Double-strain into chilled cocktail glass. Serve in a Cocktail Glass.
Episode 28 - Bada$$!
The one where we compare tattoos, piercings and the overall RAWR factor.
The Moscow Mule
So it was crazy to realize we hadn't done a traditional Moscow Mule yet. I knew we'd had a Kentucky Mule (Episode 3), and for some reason I just figured we'd done the Moscow as well because we love our Vodka. In researching though, I learned some REALLY cool stuff. We may have to have a "Mule Fest" where we try ALL the MULES.
Variations use different liquors, with the name changed accordingly:
if bourbon is used, the drink is called a Kentucky Mule (or Horsefeather but thats not a Mule so…).

if bourbon and coffee liqueur are used, it's called a New Orleans Mule.

if gin is used, it is a Gin-gin Mule.

if tequila is used, it is a Mexican Mule.

if spiced rum is used, it is a Jamaican Mule.

if Bundaberg Rum is used, it is an Aussie Mule.

if Irish whiskey is used, it is an Irish Mule.

if blended Scotch whisky and St-Germain liqueur are used, it is a Glasgow Mule.

if absinthe is used, it is a Bohemian Mule.

if absinthe and cinnamon schnapps are used, it is called a Dead Man's Mule.

if cognac and Angostura bitters are used, it is a French Mule

if pear liqueur and Poire Williams are used, it is a Prickly Pear Mule.

if Southern Comfort liqueur is used, it is called a Southern Mule.

if Tuaca liqueur is used, it is a "'Tuscan Mule.'"
For the purposes of tonight though, we'll be having the traditional Moscow Mule.
Ingredients-
2 oz Vodka

1 oz lime juice

4 oz Ginger Beer
Add the vodka, and lime juice to a shaker and fill with ice. Shake, and strain into a mule mug or Collins glass filled with fresh ice. Top with ginger beer and mound crushed ice over the top of the drink. Garnish with a slice of lime.